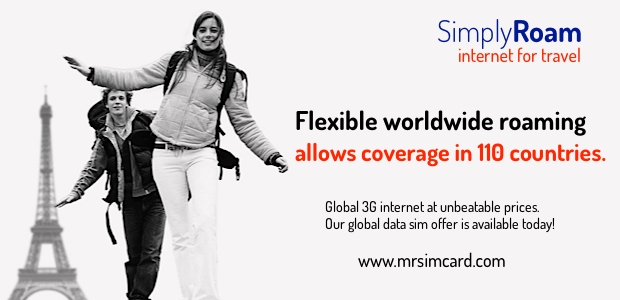 Simply Roam Global 3G Data Sim.
Our SimplyRoam is a sim card giving you access to global Internet in any device. You have complete control. With an innovative portal, market-leading prices and easy-to-use prepaid bundles, you can surf the Internet safely whenever and wherever you travel. ...Learn more

Simply Roam Global Data Standard Sim: $14.99 -Buy Now
Simply Roam Global Data Micro Sim: $16.99 -Buy Now
Simply Roam Global Data Nano Sim: $16.99 -Buy Now

Global Roaming Sim Cards!
Mobile phone calls and text messages can be very expensive while traveling abroad. Sometimes you need to place an important call or maybe its a matter of staying in touch. A global roaming sim card is a perfect solution for an international traveler.

The Global Sim Card works with your unlocked quad band GSM phone and comes with a unique phone number allowing your contacts to reach you worldwide. Most often the global sim will feature free incoming calls in 100+ countries. Our Global sim cards are popular with students, vacationers, business travelers, government, international media, military personnel, oil and gas industry workers.

If you want to use your mobile phone abroad, but don't fancy the roaming charges, then a Global Sim card is your best solution.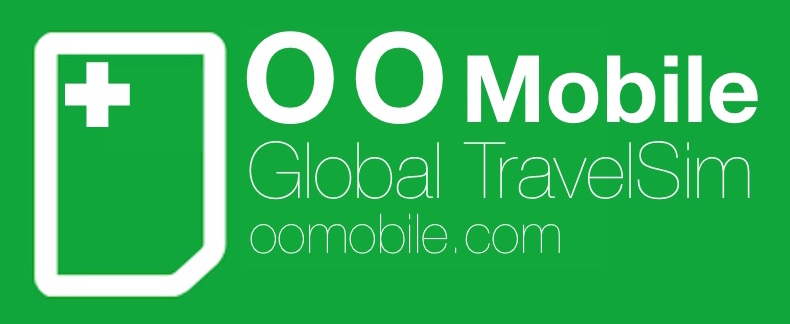 Lynx X2S -"Grab N Go Global"
Unlocked Quad band GSM Phone
This offer includes an O O Mobile Global Sim Card with minimum two year validity, Its a great sim for long term low cost use with cheap calls globally. Enjoy FREE incoming calls in over 139+ countries on a sim that works in 200+ Countries with the lowest call rates possible. (..learn more) The Sim comes with $10 or $20 starter credit.

Bundle 1 - Lynx Phone package plus O O Mobile Sim with $10 loaded. $39.99
Bundle 2 - Lynx Phone package plus O O Mobile Sim with $20 loaded. $49.99
Bundle 3 - Phone, charger, battery, headset only - No Sim included. $21.99

The Lynxx X2 GSM Phone. This is a basic phone for the World. The Lynxx X2 works on GSM 850/1900 MHz band in the USA and 900/1800 MHz globally. This phone works great for all the basic needs. Features include an MP3/MP4 Player, FM Radio (Earpiece included), a MicroSD Card Slot (Card not included) and a Camera. ...See phone Manual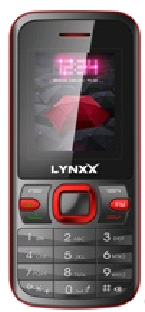 Network Specs.
2G Quad Band GSM 850/900/1800/1900MHz
GSM/GPRS/EDGE Class 10

Camera
Front and Rear Facing 0.3MP Camera with Video

Battery
600mAh (2.5 hours talk time/200 hours standby)

Other
Messaging: SMS, MMS, Email, FM Radio, GPS

GLOBAL SIM CARDS
FREETIME GLOBAL | SIMPLY ROAM GLOBAL DATA SIM | MAX ROAM GLOBAL | OO MOBILE GLOBAL | THREE UK GLOBAL
GLOBAL SIM CARD OFFERS
Period
Talk
Text
Data
Number
Cost
FREETIME
Free in 80+ Countries
Free IncomingText
Yes
+44 UK, +34 SPAIN, +1 USA
$19.99 -BUYNOW
MAXROAM
Free in 80+ Countries
Free IncomingText
Yes
+44 UK
$2.99 -BUYNOW
MAXROAM Data Sim
-
-
Data Bundles
-
$9.99 -BUYNOW
OO MOBILE
$5 loaded
Free in 139+ Countries
Free IncomingText
Yes
+44 UK, +372 ESTONIA, +1 USA
$24.99 -BUYNOW
GLOBAL SIM CARD SUPER OFFERS

OO MOBILE
$50 loaded
Free in 139+ Countries
Free IncomingText
Yes
+44 UK, +372 ESTONIA, +1 USA
$50.00 -BUYNOW

Get your O O Mobile Global Sim for FREE with $50 recharge! $50.00 -BUYNOW

NEW - Lowest call rate in EU countries:
Outgoing calls are 11 cent per minute with NO Setup Fee.
Outgoing SMS 6 cents
Data is 11 cent per Mb!
Rates also apply between EU countries! These are the Lowest rates ever from FreeTime!
What is a Global Sim-card
A Global Sim card is a single sim that works in many countries offering cheaper international calls and texts than your home Sim card. Global Sim cards allow you to roam across a number of different countries, on different networks, with a single Sim-card without the nasty bite of international roaming charges.

For instance, Global Sim cards offer significantly cheaper rates across Europe and the Caribbean and you will usually receive texts free of charge.
Should I buy a local Sim-card or a Global Sim-card?
Local foreign Sim-cards and Global Sim-cards both have benefits and drawbacks, and which one you buy depends on your personal requirements.
Global Sim-cards offer good value for money if you're traveling across more than one European country, as the rates in Europe are usually cheap and you won't have to change Sim-cards when you enter different countries.

But if, for instance, you are visiting just one country in Asia, such as Thailand or India, then it might be a better idea to buy a local Sim-card, as you only need coverage for a single country and Global Sim call rates are more expensive in Asia.

When it comes to Global Sim-cards you really should check what rates will apply in the countries you're visiting.

You also need to think about who you will be calling while abroad. If you plan on making more calls to local numbers then a local Sim card is a better option. If you expect friends and family to call you from home then a Global Sim card will usually minimize their costs more than a local Sim will.

It is also worth thinking about how you will recharge your Sim card. A Global Sim card will usually allow you to top up online or over the phone with a credit or debit card. Local Sim cards are generally recharged via vouchers brought in store.

Another advantage to Global Sim cards is English speaking customer service generally available 24/7.