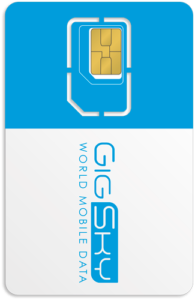 Gig Sky Data Only Global Sim $10.00

GigSky is the first World Mobile Data service designed for travelers. Staying connected should be simple and convenient, regardless of where we are. GigSky delivers worldwide coverage through a single app, so that individuals and businesses can experience seamless global connectivity every time they travel.
GigSky offers global data connectivity solutions for consumers and business to stay connected everywhere. We over service and coverage in over 190 countries.

Affordable pay-as-you-go 4G LTE data plans available in the world's most popular destinations.
Get connected to data as soon as you arrive at your destination. See more, do more using cellular data on your next trip.
Prepay and manage your data usage using the GigSky app everywhere you travel. Top-up and buy additional data plans as needed.
The GigSky Data SIM is a universal SIM that fits in any mobile hotspot, tablet, or phone that uses a nano, micro, or standard size card.

Coverage:
Latin America - See Here!
Middle East / Africa - See Here!
North America - See Here!
Europe - See Here!
Asia / Pacific - See Here!

FAQ
WILL I BE ABLE TO MAKE CALLS USING GIGSKY DATA SIM?
GigSky is a data-only service. You can make voice calls with popular VoIP apps such as Skype, Viber, Facetime, iMessage, Facebook Messenger, and Google Hangouts. You will not be able to make regular phone calls or send/receive SMS text messages.