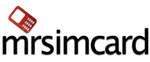 FAQ
Q. - Is there a catch?
A. - No catch. We have a bunch of sims and a great deal, so we put together a crazy Hot deal. Its a good sim with unlimited talk and text and a bunch of data. You can order it, tell us when you need it activated and away you go.

Q. - Does it fit into my phone?
A. - The sim is triple cut which means that you will receive the Mini, Micro, Nano sim all in one.

Q. - Can I use Hotspot?
A. - No hotspot on this sim. Look at our Simple Mobile or Lycamobile offer for that feature.

Q. - How fast can I get it?
A. - Shipping included is via USPS. In the USA you should expect 5 days. International shipping is also included and will take 10 days. You can add FedEx Two day and Overnight Service in the shopping cart for expedited delivery.


Questions - Send SMS / iMessage / WhatsApp to +1.703.9534567
Call +1-7039532272 / +44.7700304300 for
Sim Support Washington DC, USA.