Fido Sim Cards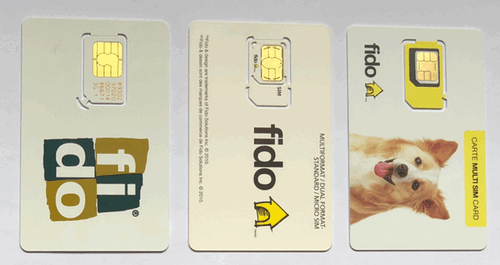 Fido Canada Sim Card
Fido offers Personal Communications Services (PCS) and wireless data services in major centres across Canada and has been a subsidiary of Rogers Wireless Inc. since November 2004.

Fido was originally launched by Microcell Solutions Inc. in 1996 and went on to revolutionize the wireless industry in Canada with a unique approach to pricing, a money-back satisfaction guarantee and more. Today, Fido continues to move ahead with new voice and data technologies as well as the latest in wireless Internet services to keep you connected to what matters most in your life.

Our Fido Program is simple.
Buy your empty Fido Canada sim which you can activate on any Fido Canada Plan you choose upon arrival in Canada or before arrival in Canada. For activation you need a Canada address (Your hotel address works) and a refill pin which you can purchase upon arrival in Canada. (See the variety of plans here. )


Fido Canada Prepaid Sim
Welcome to Canada
Fido offers 6 different prepaid plans that vary in benefit and cost to the customer. All costs mentioned here are Canadian dollars. Let's indicate upfront that Canada is high on cost and low on options. Prepaid iPhone capable data plans and blackberry plans have recently become available.
How it all Works
Upon arrival in Canada - You the customer can activate your Canada sim card online at the Fido Canada website by clicking here. At activation you may choose a daily or a monthly plan. Longer plans carry a $30.00 bonus given at activation and shorter "Day" plans carry a $10.00 bonus given at activation.

At / after activation - The customer can add data to the line for 1 day, 7 days, or 30 days.
Activation Fee:
There is None.
Data Add-Ons
There are a variety of data add-ons available for Fido Prepaid. Certain data bundles can only be added to Monthly prepaid plans. We will focus first on the bundles you would add to the lowest cost "By the minute" rate plans.

The "Data Day Pass" will work with iPhone, Nexus, Palm, HTC..etc and is applicable for Fido "By the minute" plans.
Data Week Pass --> $5 for 60MB for a 1 week.
Data Day Pass --> $1 for 10MB for 24-hours

If you have a BlackBerry device, Data Passes can be used for on-device browsing only. If you have any other smartphone (i.e. iPhone) Data Passes can be used for email, IM, on-device browsing and application use.
To purchase to a Data Pass,just launch your internet browser and you'll be asked to purchase a Pass anytime you try to use data services. You will receive an SMS and/or be redirected to purchase page before you can continue using data services. You pay from the balance on your line.

Data for Monthly Prepaid Plans
$10.00/month --> 100MB
$25.00/month --> 500MB
$35.00/month --> 1GB

These data plans are compatible with all mobile devices (excluding BlackBerry® ). Subscribe to these plans by calling customer service. Dial 6-1-1 from your FIDO phone or call 1-888-482-3436. Select 3 for phone features when prompted

Prepaid Blackberry Service
If you have a BlackBerry® smartphone, you can choose one of the following add-ons for unlimited access to only instant messaging (IM) and email or only instant messaging (IM) and social networking.
$15.00/month --> 100 MB BlackBerry® data add-on with Unlimited personal email and Instant Messaging (IM) for BlackBerry® add-on

Nationwide Long Distance:
Call from Canada to anywhere in North America (excluding Mexico) any time, any day for only $0.35 per minute. Regular airtime is charged in addition to long distance rates.
411 Calls: Yes, Directory assistance from Fido Canada is available for $1.75 per call plus the local airtime rate.
911 Calls: Yes
Customer Service: To reach Customer Service, call 1-888-481-FIDO (3436) or 611, free of charge, from your Fido (weekdays from 8:00 a.m. to 9:00 p.m., and weekends from 9:00 a.m. to 5:00 p.m., your local time)
To contact Fido while you are traveling outside Canada, call +1-514-933-3436 (from U.S.) or +1-514-925-4590 (from abroad). The call will be free of charge from your Fido. Our business hours are weekdays from 7:00 a.m. to 12:00 a.m., and weekends from 8:00 a.m. to 9:00 p.m. (Eastern Time).
Contract: None is required for Fido Canada prepaid.
Credit Check: None is required.
Payment Options: Since this is a true prepaid plan, there is no "monthly bill" for basic service. You pay online with a credit or debit card or purchase a refill card at one of the many retail locations across the country. Dial *611 from your Fido Canada prepaid phone or 1-888-481-FIDO (3436) from a landline phone. International callers may dial +1-514-925-4590 (from abroad) or visit Fido.com/help.
Alcatel A510A with Fido Sim.

Only $59.99 Unlocked from Mrsimcard


The "Alcatel A510A" is a compact unlocked GSM phone with a Fido Sim (Activation / plan is required). This unlocked phone works all over the world and is a great choice for simple communications without too much cost. This phone boasts 4.2 hours continuous talk time and 18.5 days standby.

Data capable 3G, Candy bar Phone, includes Fido Canada Sim (Activation / plan is required).

Wireless Technology:
UMTS/HSPA+ 850/1900/2100MHz
GSM/GPRS/EDGE 850/900/1800/1900MHz


Productivity:
Calendar - Yes
Alarm clock - Yes
Call waiting - Yes
Caller ID - Yes
Personal organizer - Yes
Address book email, birthday, multiple phone numbers, address

$59.99