Three UK Unlimited Offer
Three UK Sim Offers.
Three UK - Now with "All You Can Eat Data" in the UK and 19 "Feel at Home" countries. You are now free to do what you like without worrying about your phone bill. With "All You Can Eat", you get 300 minutes and 3000 texts valid for calls and texts to UK numbers, Unlimited Data and £5 for out of plan calling.
Place your order and you will receive a sealed sim kit with a working number. Advise us your arrival date and we will activate your service and add data.
Set the APN and start talking & surfing -
Enjoy.

So what are the Feel At Home destinations?
You can currently enjoy Feel At Home in 19 destinations around the world: UK, USA, Austria, Australia, Denmark, France, Finland, Hong Kong, Indonesia, Italy, the Republic of Ireland, Israel, Macau, New Zealand, Norway, Spain, Sri Lanka, Sweden, Switzerland.

* Hotspot and tethering are not allowed. Get the 3GB data sim if this is your need.
The Three UK Pay As You Go sim card will not work in a 2G phone. Your phone must be at least 3G and unlocked to use the Three UK sim.
Period
Talk
Text
Data
Intnl
cost
30day All in One
300 Mins
3000
Unlimited
£0 Inc
$59.99
30day All in One
300 Mins
3000
500MB
£0
$49.99
90day Data Sim
-
-
3GB
£0
$39.99
3UK Sim Only
Yes
Yes
150MB with recharge
£0
$8.99
Enhancements
Use MRSIM WorldTalk and our "Your Dialer" App for low cost VOIP calling over data and save on your calls.
Simply click the link below the operating system of your choice and install the YourDialer app on a mobile phone!
You can also directly lookup 'YourDialer' on the iPhone App Store or Google Play for Android. We will provide you account details with activation of your service.
| | | |
| --- | --- | --- |
| | | |
| Android phone/tablet | iPhone/iPad/iPod | Symbian/Nokia phone |
Add Extra Airtime to Order
Add airtime to your order which we will add at activation. These funds can be used when you are not in a Feel at Home country or even to pay for second month of service. You can also use the refill box on the bottom right of this page to add airtime at any time.
Three UK £10 Voucher code -
10 GBP Airtime - Add to Order!
Three UK £20 Voucher code -
20 GBP Airtime - Add to Order!
Three UK Effective Call Rates for the UK
Incoming calls and text messages - UNLIMITED FREE.
Local calls - £0.26GBP to other Three UK Mobiles, £0.26GBP UK Landline
International calls - £0.03GBP to USA.
Check it
Local text - £0.11GBP.
International text - £0.10GBP (
See Three UK Tariff
).
Roaming in Ireland (ROI) - There is a special tariff for ROI on the
Three Ireland network
.
Feel at Home
Feel At Home lets you take your UK allowance away with you to 19 destinations around the world, to call or text back to the UK or to get online. So you can use your phone or device, just like you would at home. And you won't be charged to receive a call or text while you're away. If your allowance is for All-You-Can-Eat data, you can use up to 25GB when you're in a Feel At Home destination.

So what are the Feel At Home destinations?
You can currently enjoy Feel At Home in 19 destinations around the world: USA, Italy, the Republic of Ireland, Austria, Australia, Sweden, Denmark, Sri Lanka, Hong Kong, Indonesia, Macau, France, Finland, Israel, Norway, Switzerland, New Zealand, Spain.

What about other calls abroad – to local numbers for example? What do they cost?
Calls and texts to numbers outside of the UK, including local numbers in the place you are visiting, aren't part of Feel At Home and won't come out of your allowance. You'll be charged at our standard roaming rate for your destination. When you arrive in a Feel At Home destination we'll send you a message to tell you what these charges are. Topup your airtime to pay for extra calls here.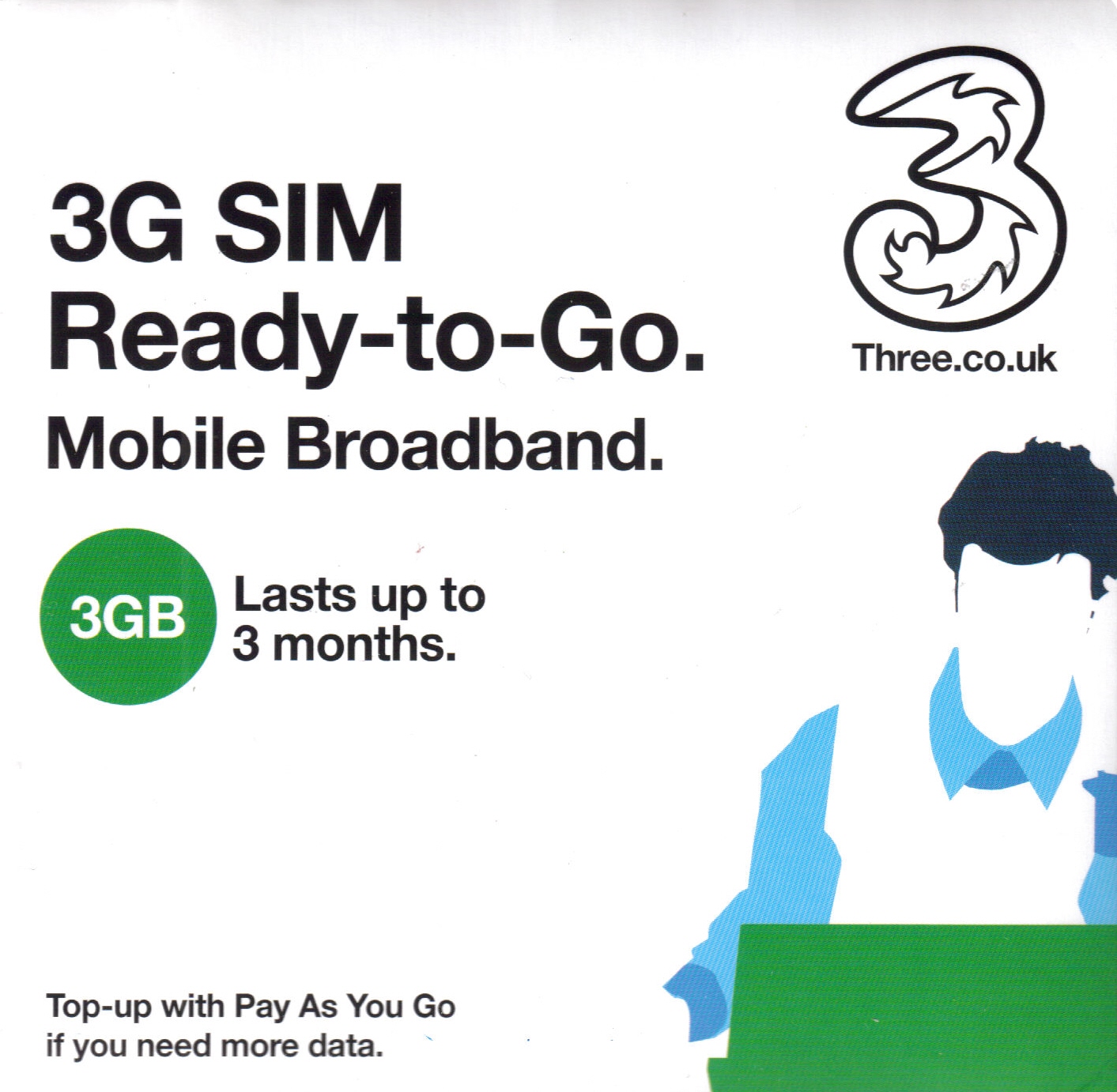 3GB Broadband Data Starter Kit.
Its simple. You Get 3GB of data to use however you like within 3 months from the date you start using it. Just insert the sim and power cycle the iPad in the UK. Enjoy. Rock solid and blazing fast.
Three UK Add-On Features
Save on International Calls
You can make cheap international calls to 25 countries from the UK on your Three UK service. Calls to USA are 3p/min.
Just add the three digit code of the country you want to call
from this list
below followed by 00, the country code and the number you want to call.
Three UK data Configuration
iPhone / iPad - Set the APN - "three.co.uk" or "3internet"
Android Devices
Name: Three UK
APN: "three.co.uk" or "3internet"
Proxy:

Port:
Username:
Password:
Server:
MMSC: http://mms.um.three.uk:10021/mmsc
MMS Proxy: mms.three.co.uk
MMS Port: 8799
MCC: 234
MNC: 20
APN Type: default,supl,mms

Alternatively you can 333 from your Three phone or 0778 233 3333. The Three UK customer service team will help you to set up your mobile internet. Need to purchase an Add Ons / Check balance - Dial +44 843373 4444.


Your Phone Number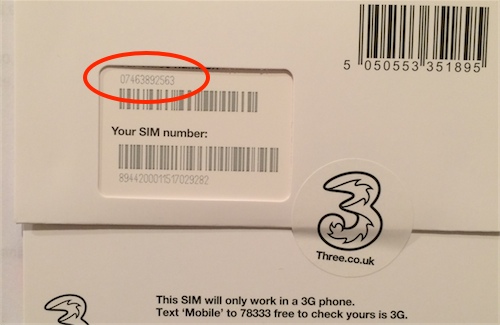 Your phone number is printed on the Sim Card, it's the number above the barcode starting 07:
(44) is the country code, the other eleven digits are the number 07463892563.
To call the number above from the USA, I would dial +44 7463892563 or 011 44 7463892563.
Other ways to find your number:

1. Call or text someone
2. Dial *#100#, or 444 or +44 7782-333333 and ask customer service

How to Dial Internationally
To place a call outside of the UK you must dial a prefix code to the start of the international number you want to call. Click here for the list of international codes.

The format is: (INTERNATIONAL CODE)+ 00 + COUNTRY CODE + AREA CODE + NUMBER

For example, to dial mrsimcard in Washington DC, you would enter 424 001 (703) 953-2272

Easy cheesy!

Activation Procedure
Please insert the sim card into your phone and power it on approximately 1 week before travel. The Three UK network will activate the line and a message on the screen will direct you to turn the phone off and back on. Once complete the sim card is active. We will fund the sim and activate your plan a few days before travel.



Top-up with a voucher.
You can get a top-up voucher from mrsimcard.com using the refill box below, any supermarket, shop or petrol station that shows the top-up logo. You can buy a top-up for £10, £15, £20, £25, £30, £40 and £50. You'll get a printed voucher, or a voucher by email that looks like a receipt with a 16 digit number printed on it.

Once you've bought a top-up voucher, call 444 free from your Three phone or +44 778 233 3333 from landline. Select Top-up with a voucher and enter the 16 digit number printed across the receipt. Once you've entered the voucher code, your account will be topped up.


How it Works
1. Order Sim and advise us your arrival date UK.
2. We will activate the line just before your arrival and advise your mobile number.
3. Arrive the UK. Insert the sim. Power cycle the the phone.
4. Set the APN per the enclosed instructions.
5. Enjoy. View your cart/checkout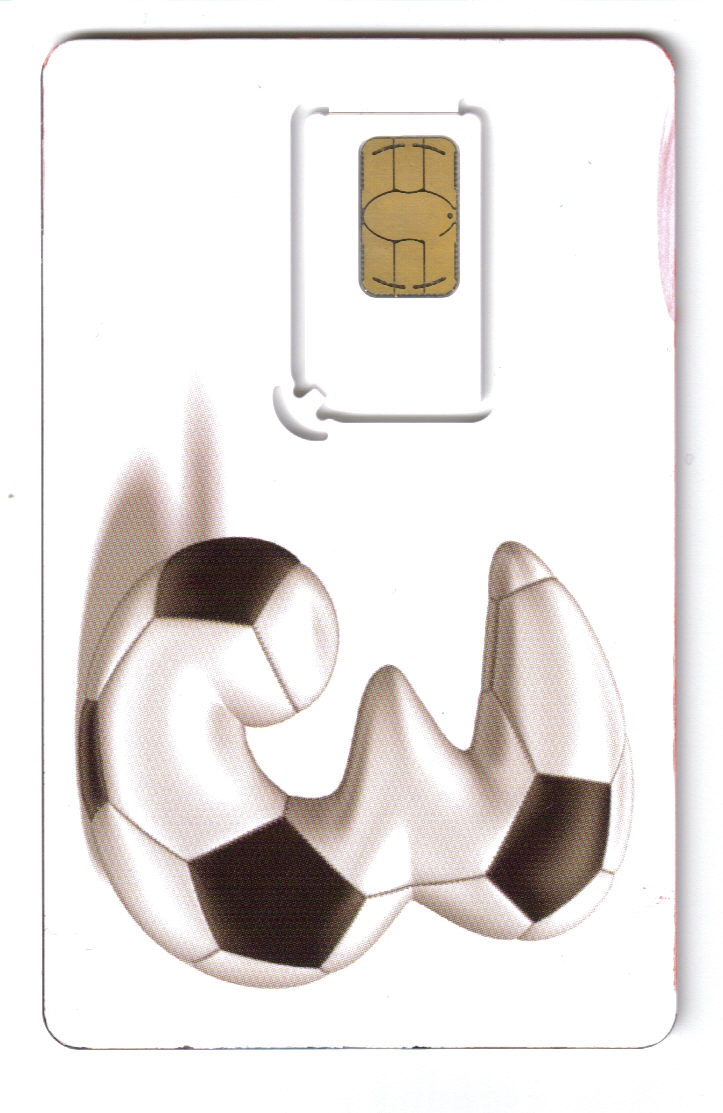 Check your Balance
You can check your balance at any time
Either:
• Dial 333 Free to hear your balance.
View your Three UK number
You can view your Three UK number on your cell phone screen:
• Dial *#100# , press send.
Three UK Info
Three UK Customer Service is available at +44 778 233 3333 or "333".


Click below to Chat to mrsimcard via iMessage from:
IPAD/IPHONE | MAC/PC | SKYPE | TELEGRAM

Contact Us
Contact Customer Care at +1-703-953-2272 or +61.2801.55590 or +44.7447362969 from your wireless phone.
You can also send an email to Sim Support.
Please follow us on Twitter.